Founders/Senior Pastors Joshua and Sarah Alvarez
Pastor Joshua Alvarez was born in the city of San Juan, Puerto Rico. In 1995 his life took an entirely new meaning when he surrendered his heart to the Lord Jesus. Joshua is both the Founding/Senior Pastor of The River Church and the Vice President of Kingdom Voice Ministries. Pastor Joshua has traveled around the world and holds a Master's degree in Theological studies.
Pastor Joshua has traveled around the world preaching the Gospel of Jesus Christ where he has been featured on television and radio programs internationally and locally. He has had the privilege to meet many influential world leaders-political and religious. Joshua has ministered in prophetic rallies, churches, conferences and crusades throughout the nations.
Joshua is recognized as an Apostle, Teacher, and Evangelist. He works under a beautiful anointing of prophecy and healing with an emphasis on the unchanging word of God. He is described by those who know him as a "radical" and an "influential" young man.
Joshua and his wife Sarah carry the same vision and are passionate to see all changed by God's power in every nation on earth. They continue to take the message of God's saving, delivering and healing power to the nations. They want to see the church arise, yet their message of the Gospel of Jesus Christ continues to be fervent and motivates them to "go into the world, and preach the gospel to every creature." (Mark 15:15)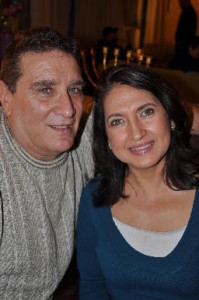 Pastors Milton and Eneida Alvarez
Pastor Milton Alvarez has a heart for the nations, and is recognized as an ordained minister, evangelist, and revivalist. He has been characterized by many as "radical and full of God's anointing."
Milton was gloriously saved in 1986, and from that moment began to preach in public places such as parks, beaches and on the streets, which progressed into preaching at other types of gatherings.
Milton and his wife, Eneida, founded Anchor of Salvation International Ministries (1991), which was later changed to Kingdom Voice Ministries, a non-profit organization.
Milton and Eneida minister in churches, prisons, radio, T.V. and through various printed forms. They also minister in conferences, as well as through Aglow and FGBMF meetings around the world. Milton and Eneida have been hosted in Praise the Lord on Trinity Broadcasting Network and the 700 Club. Milton and Eneida's ministry is both wonderful and edifying.
They have a heart for the "least of these" which is evident in the fruit of their work with the hungry, homeless, orphanages, rehabilitation centers and prisons. Both of them came on staff as Pastors of The River Church in 2009. Pastor Milton holds an honorary Doctorate in Divinity. They reside along with their children in Camas, Washington.
ANGEL & CHERLYN
YOUTH PASTORS
CORINNA
CHILDREN'S MINISTRY
RUSS & LESLIE
MURPHY
MEN'S & WOMAN'S MIN.
DAN & NANCI
USHER'S MINISTRY