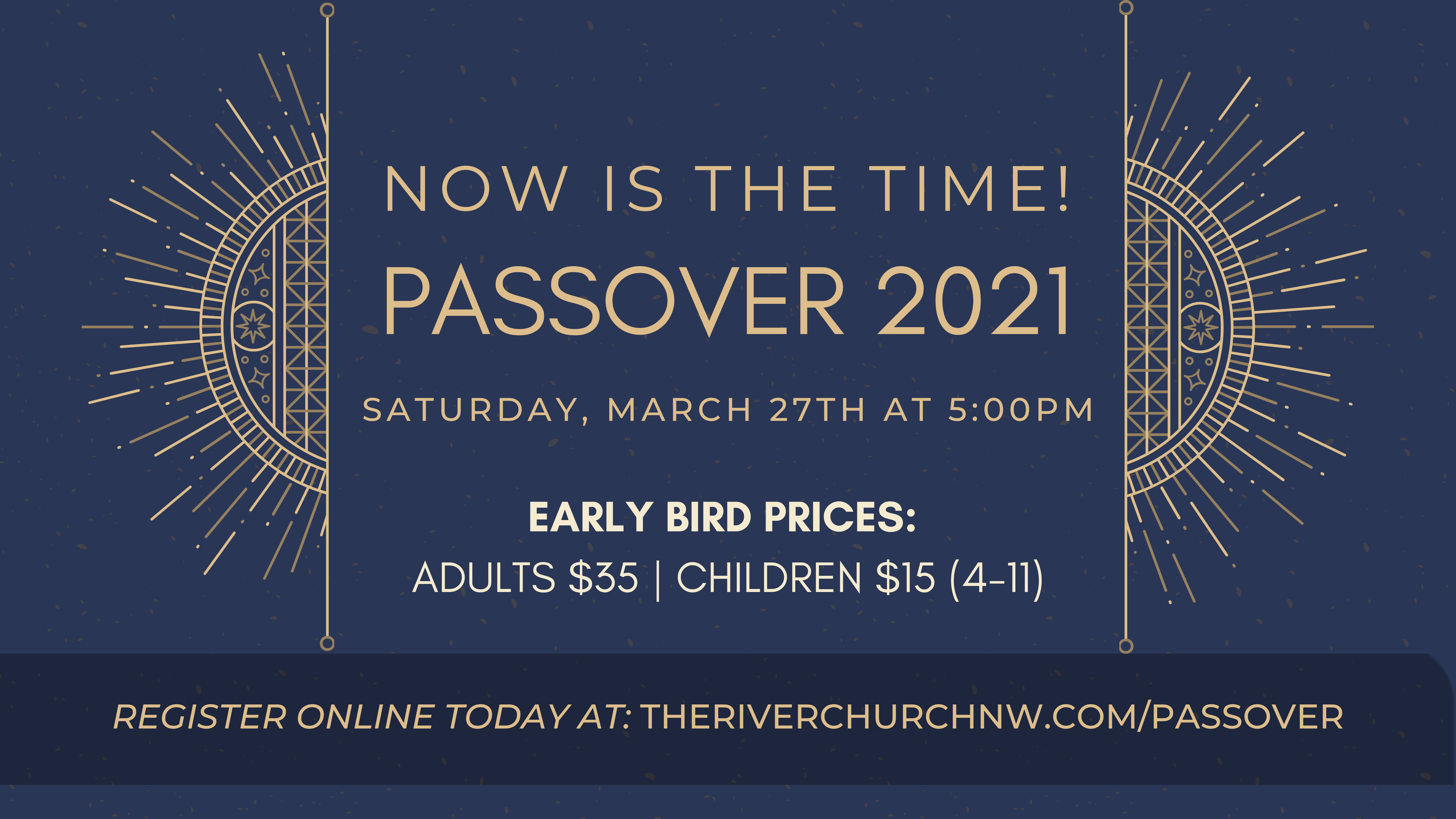 WE ARE SOLD-OUT FOR PASSOVER 2021 – IF YOU WOULD LIKE TO BE PLACED ON A WAIT LIST, PLEASE CONTACT OUR OFFICE AT 360-694-7777
And this day shall be unto you for a memorial; and ye shall keep it a feast to the LORD throughout your generations; ye shall keep it a feast by an ordinance for ever. And ye shall observe the feast of unleavened bread; for in this selfsame day have I brought your armies out of the land of Egypt: therefore shall ye observe this day in your generations by an ordinance for ever.
Exodus 12:14,17

The Passover Seder is the celebration of the deliverance of the children of Israel and our redemption through the blood of the Messiah. It is a Spirit filled celebration for the whole family of God! This Feast is a perfect picture of Jesus/Yeshua and His sacrifice for us; from the sacrificial lamb, to the way that matzah is prepared. It's an amazing mystery and millions of people who celebrate it are not seeing this image. But for us it has been revealed!

The next day John sees Yeshua coming unto him, and says, Behold the Lamb of God, which takes away the sin of the world.
John 1:29

The name Passover comes from Pesach which means "to pass over," referring to Exodus Ch. 12 when God passed over the children of Israel to spare them from death. The primary observance of Passover is related to the miraculous exodus of the Israelites from slavery in Egypt, the protocol for the Feast being found in Exodus chapters 12-15. This was all a prophetic foreshadowing of the Messiah, who through the cross delivered us from the Egypt of sin. During this night we retell every facet of the story through every element used.

It is a night to be much observed unto the LORD for bringing them out from the land of Egypt: this is that night of the LORD to be observed of all the children of Israel in their generations.
Exodus 12:42
EVENT INFORMATION:
Date: Saturday, March 27th, 2021
Time: 5:00 pm; Doors & Registration open at 3:30 pm
Adult: Early Bird – $35.00 Prices go up March 21
Children: Early Bird (4-11) – $15.00 Prices go up March 21
Location:
Matson Building – 10713 NE 117th Ave, Vancouver, WA 98662
TICKET PRICES:
Adult Early Bird: $35.00
Child (4-11) Early Bird: $15.00
After March 21, 2020:
Adult: $45.00
Child (4-11): $25.00
WHAT TO EXPECT DURING THE EVENT?
*Full-course catered meal, served at table.
*Congregational dancing.
*Raffle drawing.
*Photo Booth.
*Product table with teachings and products from Israel for purchase.
*Unforgettable exposition of the Word of God regarding the Feasts.
YOUR HOST:
Joshua Alvarez is a Jewish believer in the Messiah. He is known for his in-depth, Spirit filled, Jewish roots teaching which he shares throughout the world. Because of his intimate knowledge of the original language, people and land, he is able to draw forth those precious nuggets of truth residing in the Word.
DRESS SUGGESTION:
Our Passover celebration is a formal event. Suggested attire is what is traditionally worn to a wedding or important holiday party.
TO PURCHASE TICKETS:
Please click the banner below. When you are transferred to the form, fill out all the information and click the purchase button. Ten seconds after the payment is processed you'll be transferred to a confirmation page. You should receive an email with your tickets and confirmation of your purchase. You can print them or show it on your phone to our registration team the day of the event. Arrive early for registration (at least 15 minutes prior to start). To purchase your tickets by phone you can call 360-694-7777.